Inside Experience - United Arab Emirates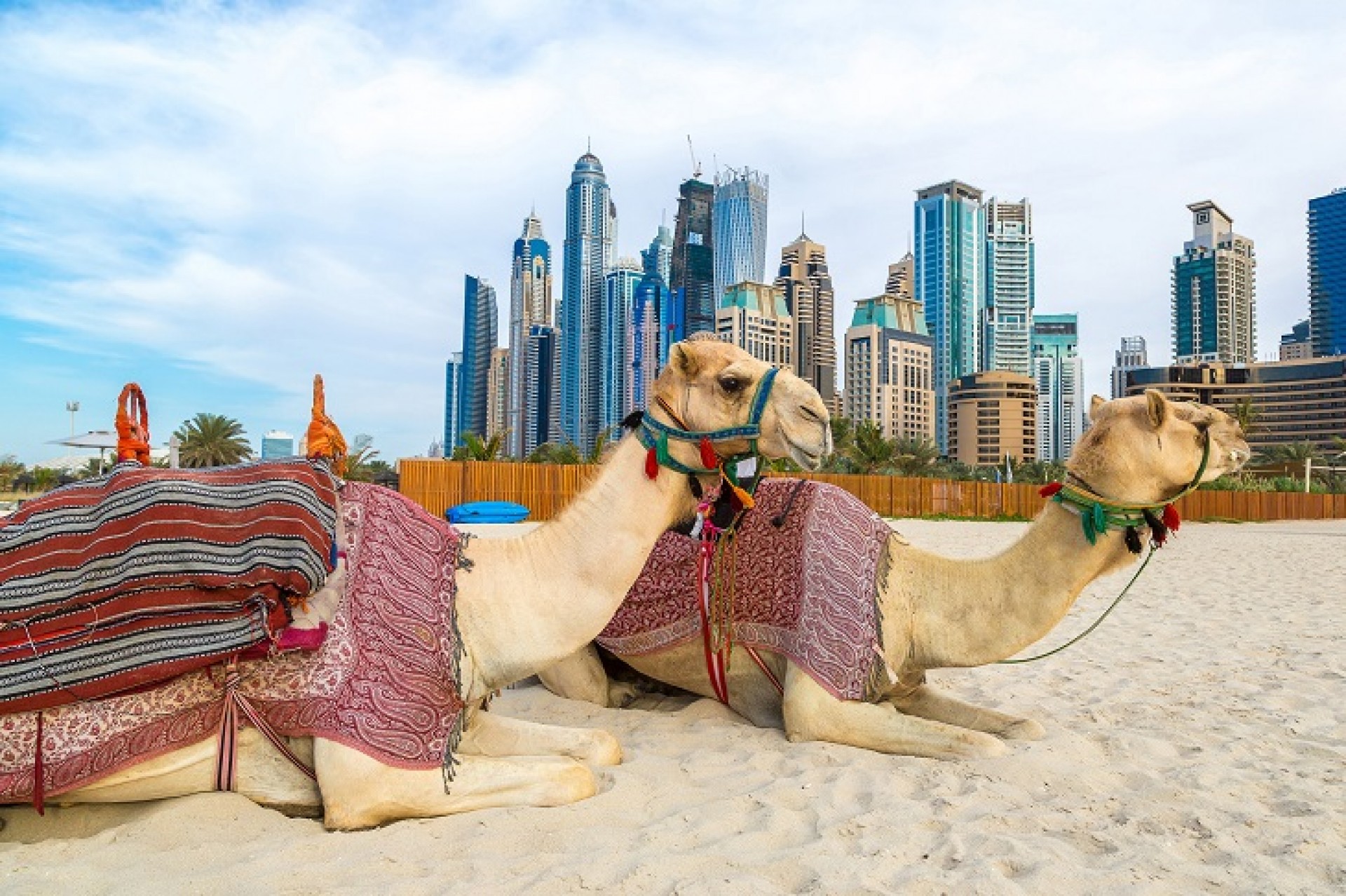 With so many new hotels popping up in the United Arab Emirates, it can be hard to know which will best suit your needs. Luckily, we can share with you a personal experience of some of the top hotels in the UAE, including all the details from the number of pools, to the colour of the walls!
Paige Knight from Howard Travel has recently returned from a four night trip to experience the UAE first-hand. She recalls; "It was a great experience. I loved having the chance to visit these mesmerizing hotels, and I know that it will help me provide a more knowledgeable service for our clients".
Jumeirah Zabeel Saray
Jumeirah hotels are known for attention to fine details, which is certainly evident at the Jumeirah Zabeel Saray. The traditional grand lobby features no less than 30,000 square metres of natural marble, and opulent décor like fountains and large flower arrangements. In fact, each Jumeirah property has its own specific aroma derived from the flower displays! The pool and beach areas are also immaculately kept, with comfortable sun loungers and umbrellas available. While by the pool, staff provide you with unlimited complimentary bottled water in an ice bag, which is a really nice touch when in the UAE heat.
The hotel is very generous with its complimentary facilities, so you really feel you are getting great value for money. The kids club is free all day long, and guests have complimentary access to the Largest Spa in the Middle East between 9:00am – 9:30pm, including salt water pools, sauna and steam rooms and outdoor cabanas. In addition to this, adult guests also receive a 150 dirham spa voucher upon check-in to use on treatments, which are payable locally. Outside the hotel, guests receive complimentary access to Wild Wadi Waterpark as part of their stay at a Jumeirah hotel, saving over £50pp! Live bands also play every Thursday and Friday evening at the Music Hall, with up to 10 different bands on each night.
Perhaps the most innovative hotel feature is the flexible service of half board, where guests are allocated meal vouchers that can be used across all on site restaurants excluding the Rib Room. This includes the 'dine-around' service, providing flexibility on where and when guests dine across Jumeirah properties and facilities, with complimentary transport to hotels included in the dine-around plan. However, you don't need to leave the resort to get a choice of food and drink – there is a total of 10 bars and restaurants on site serving a range of cuisines including Lebanese, Italian, and traditional Steak House.
Banyan Tree Desert Resort – Al Wadi
This hotel is situated within endless rolling sand dunes, providing a peaceful aura from the moment you arrive. Despite being secluded in the desert, you don't feel isolated as there is a wide selection of activities and experiences available around and on the resort, such as falconry shows, camel riding, and even archery classes.
The resort is designed to be an oasis in the desert, which it certainly feels like. The award winning Banyan Tree Spa Al Wadi which includes sauna and steam rooms, ice showers and fantastic treatment rooms is perfect for relaxing, and an onsite dedicated nature reserve, with roaming wild Arabian Gazelle and Oryx completes the oasis experience.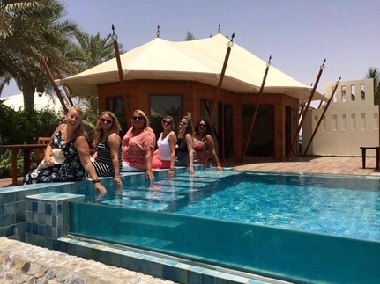 There are 70 villas of which 12 can be interconnecting, and 31 private villas at the resort, so it has quite an intimate feel. The dining at the Al Waha restaurant complements this as it is very Arabic and traditional, but there is also a Western Style BBQ available. The hotel also offers a fine dining experience at the Safran Tower, which would be perfect for celebrating a special occasion.
Burj Al Arab
For the ultimate luxurious experience, visit the Burj Al Arab. Hotel guests arrive at the iconic sail-shaped building in complimentary Rolls Royce transfers, and proceed to check-in leisurely within their suites. Each floor of the hotel has its own concierge desk with two dedicated butlers who look after the suites on each level, so the rapport between staff and guests is second to none.
The lobby area alone features 1,965 square metres of 24 carat gold leaf throughout, with a recently opened a modern terrace, providing 10,000 square metres of space over the ocean stretching 100m out to sea. It features two pools, butler service cabanas and a spacious beach area with plenty of sunbeds. There is also a lift up to the Al Muntaha restaurant on the 54th floor, providing stunning views of the property below and the extensive Arabian Gulf, with the famous Palm in the distance.
Waldorf Astoria Ras Al Khairmah
This hotel is refreshing and gorgeous throughout. It is split into two parts; the dome and the tower, and is modern and light with a calming blue and cream colour scheme.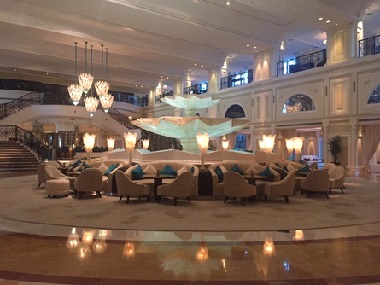 There are 15 different room types to choose from ranging between 50 - 200 square metres in size, which are categorised by view and not size. The junior suite is very spacious, consisting of a large king size bed, a lounge area, a separate dressing room and a large bathroom. Interconnecting rooms for families can be guaranteed at time of booking if required, confirming you will get your preferred room choice.
As well as a family swimming pool, there is a quiet adult-only pool area, with private cabanas which provides a nice space for couples or adults who want to rest and relax.
It has nine different restaurants, varying from Arabic, traditional Steakhouse, continental buffet and Japanese food. This means guests do not have to travel 50 minutes to Dubai to get a variety of food.
Fairmont Ajman
Newly opened in May 2015, this hotel has 252 modern rooms and 2 penthouses, all with ocean views. It is situated directly on 200m of private beach, with bar serving the pool and beach areas. Some may believe the Fairmont chain to be very business-like, but the hotel caters excellently for younger guests with a children's pool and complimentary kids club, and an adult-only pool and popular cocktail lounge for adults.
The hotel offers fantastic facilities such as a free shuttle service to the Dubai Mall and a fully equipped gym with stunning sea views, but some features such as the Spa still have work in place to add finishing touches. This hotel is pretty spectacular at the moment, but will definitely be one to watch in the future.