Sandals Jamaica - Which resort is for you?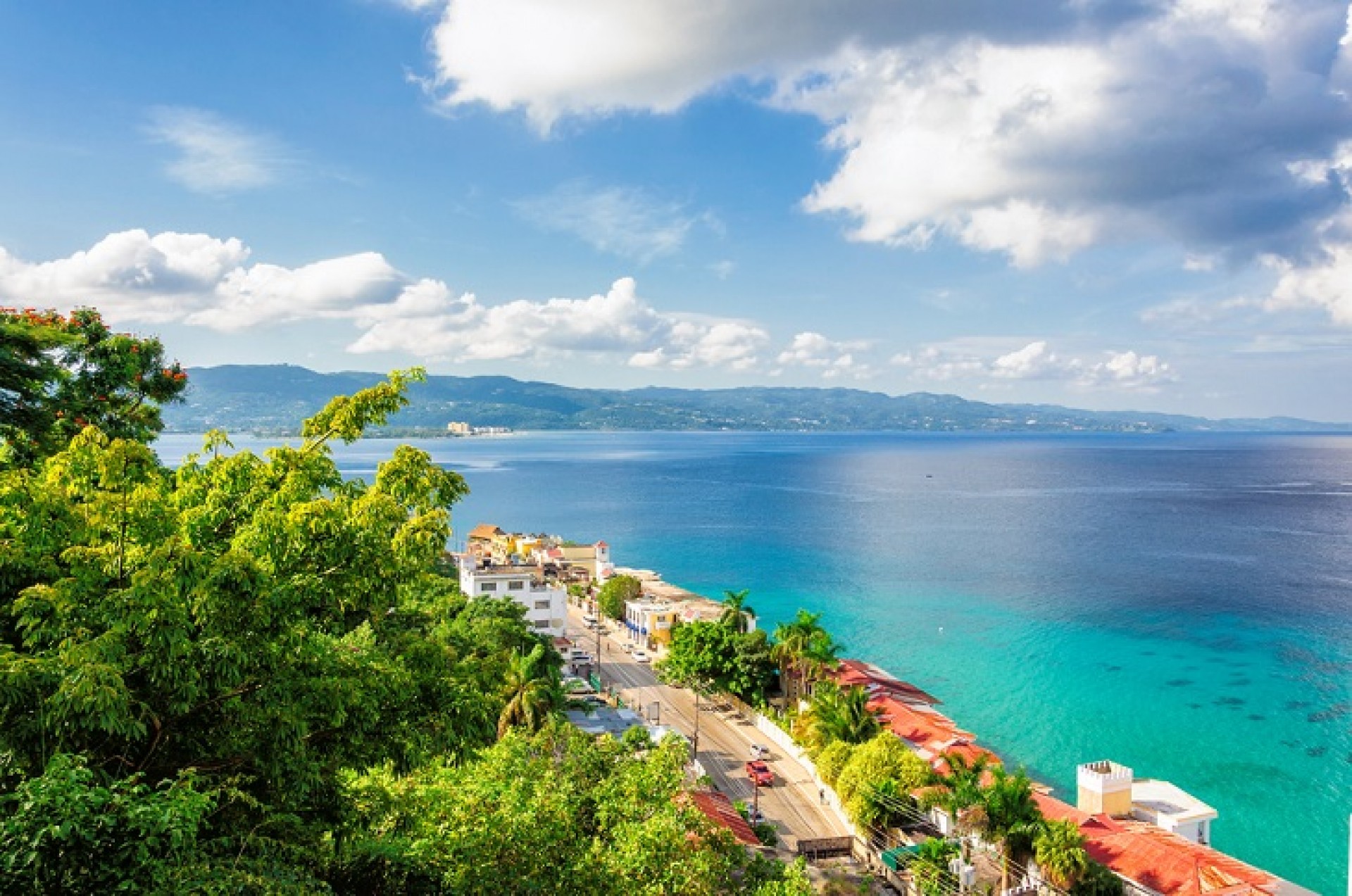 First-hand knowledge is something we pride ourselves on but getting caught up in a hurricane is perhaps a step too far! But our travel consultant, Paige, took it all in her stride on her recent trip to the Caribbean visiting Sandals' exquisite resorts. This is her report…
Travelling to Jamaica
The journey was a joy. The Virgin Atlantic flight was 9 hours and 15 minutes, but time flew by with a variety of recent movies and TV shows to entertain me. I welcomed the comfy seat, complimentary bottle of water, a blanket, a pillow and a set of Virgin Atlantic headphones. I tucked into a lovely teriyaki chicken meal followed by a delicious chocolate pudding while the cabin crew provided complimentary drinks. We also had snacks and a light appetiser prior to landing!
Despite being part of a large group it was a smooth process to clear arrivals upon landing in Montego Bay thanks to their new electronic system. Simply scan your passport, enter your first point of accommodation and smile for the camera, and you will be on your way through to baggage reclaim.
After collecting our luggage we were escorted to the Sandals lounge, with the chance of a complimentary drink whilst waiting for our transfer.
SANDALS OCHI BEACH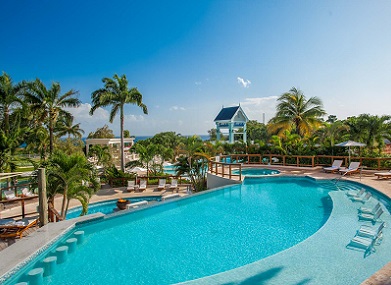 This lovely resort was our base for the first few days. We were each staying in a Butler Villa, plentifully stocked with spirits, water, soda and juices along with a vast range of tea and coffees, which are all replenished daily. Sandals Ochi resort is expansive: a verdant hillside with large pool area and beachfront bars and lounge areas.
SANDALS GOLF & COUNTRY CLUB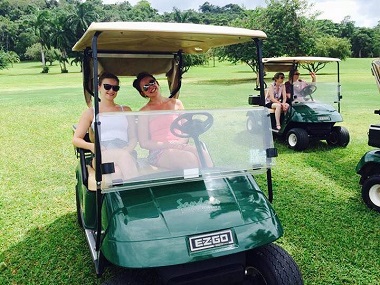 A golf cart provided welcome transport as we toured this beautiful resort. The grounds are truly stunning here, and the 18-hole course was immaculate. There is a fully stocked club shop with fantastic Sandals merchandise which you can purchase before or after your game. When you stay at Sandals Ochi Beach, complimentary transport and access to the Golf and Country Club is unlimited, with green fees included.
Sandals Royal Plantation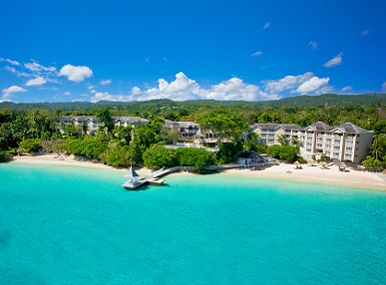 This All-Butler boutique resort with 74 rooms is very traditional, with French cuisine being very popular. The hotel is very tranquil due to its small size, with all rooms having an ocean view. Two private beaches, on the East and West wings, ensure absolute serenity. What's more, guests at this resort receive full exchange services of all resorts in Jamaica, while guests at other resorts do not get use of Royal Plantation facilities.
Beaches Ochi Rios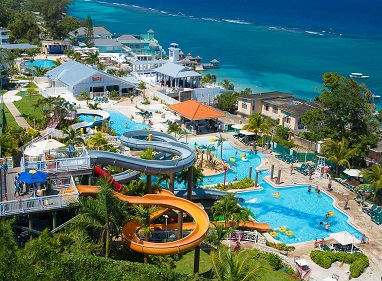 This resort is especially for families. Upon arrival, we were greeted by the fantastic Sesame Street characters who were very happy to see us! The staff were all really friendly, and gave us a brief tour of the children's area – Sesame Street Caribbean Adventure! Facilities include a fantastic X-Box play lounge, table football, a relaxing area to just sit and chill out, alongside a craft room for creative activities alongside a display of guests' handmade work! Outside exclusive Pirates Island Water Park offers 11 waterslides, whirlpools and lazy river journeys for all ages to enjoy.
Sandals Royal Caribbean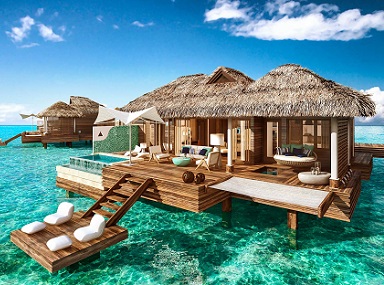 This is the only resort in Jamaica to feature a beautiful offshore island, creating a really memorable experience. It is also the most British atmosphere you are going to feel from a Sandals resort in Jamaica! For pickier travellers, there are 227 rooms with 24 different categories to choose from. This number is growing with the addition of new Over-the-Water Villas, which are first due to be available from November 2016 and honeymoon suites from February 2017.
Sandals Inn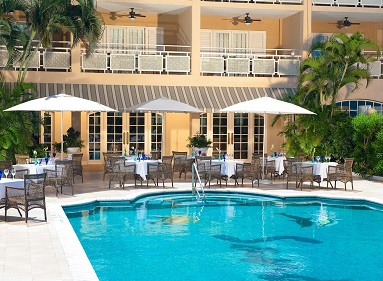 If you are looking for something more personal, Sandals Inn (formerly Sandals Carlyle) is for you. It's an intimate Sandals resort with only 52 rooms, nestled in the heart of Montego Bay within close proximity to the 'Hip Strip' – duty free, restaurants, bars and clubs! With this resort being smaller than other Sandals resorts, there is a complimentary shuttle bus service to Sandals Royal Caribbean and Sandals Montego Bay with their 'stay at one play at three' rule, so you can enjoy your peaceful hideaway while benefitting from the use of a variety of other facilities.
And how did they cope with the hurricane?
All Sandals' staff were very professional and reassuring – hurricane season in the Caribbean is between June and November, and that it is to be expected. Sandals Ochi Rios begun preparations when the warning was issued, including clearing all sunbeds and boarding up windows to make the area safer. And, considering other resorts had started to shut down in preparation for Hurricane Matthew when we arrived, we were still welcomed and able to explore. It was all well in the end - Hurricane Matthew changed direction, avoiding us completely!
PICKED YOUR FAVOURITE?
For inspiration, advice and to discuss your travel plans further, speak to our holiday experts at Howard Travel.
T: 01225 777 227 | E: This email address is being protected from spambots. You need JavaScript enabled to view it.