Hannah's Mauritius Paradise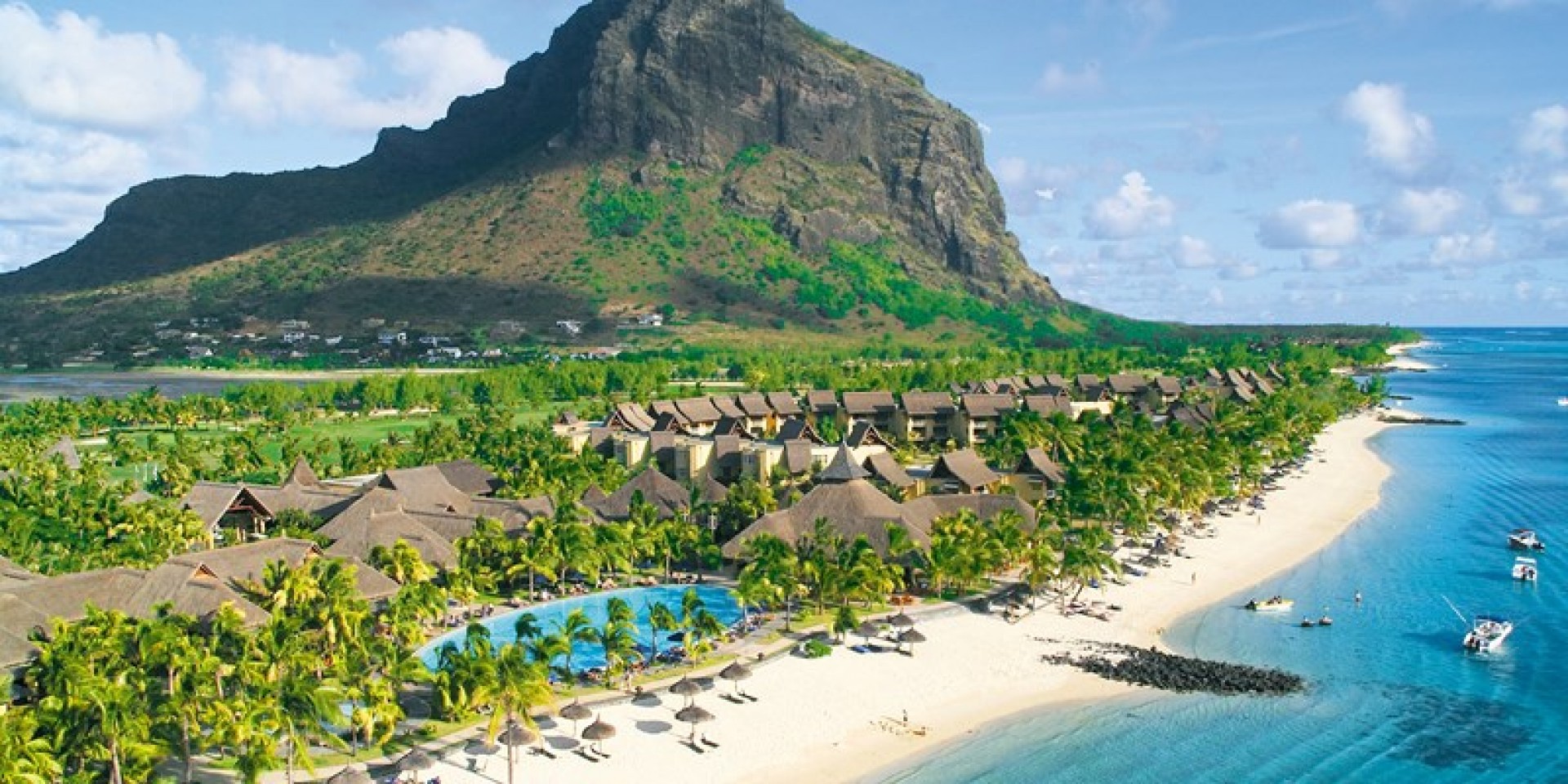 Our travel expert, Hannah, has recently returned from a once in a lifetime trip to Paradise. Her travel diary reveals everything she got up to during her trip to Mauritius on the Beachcomber Big 50.
The Beachcomber Big 50 was to be my first trip to the Indian Ocean and it did not disappoint. 50 Agents from the UK were lucky enough to be invited to join Beachcomber and celebrate 50 years of Independence on the Island appropriately named Paradise. Below I will try to put into words how amazing the Island of Mauritius and the Beachcomber hotels are and share my once in a life time experience with you.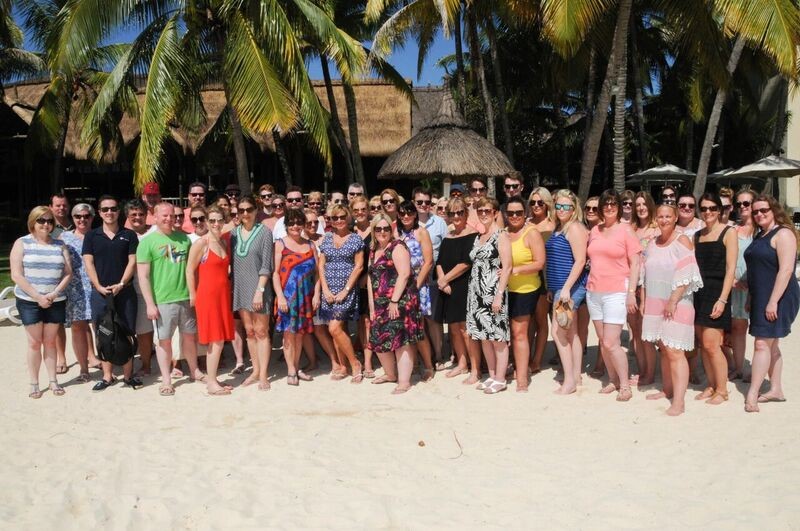 We were lucky enough to start our adventures in the Plaza Premier Lounge at Heathrow Terminal 4. This is a great way to start your holiday. The Independent lounge is open to all travellers, offers an extensive choice of food & beverages and costs £35 for adults and £26 for children, which in my opinion is excellent value for money if your planning on having something to eat and a few drinks at the airport before your fly.
In the spirit of all things Mauritius I flew with the national airline. Air Mauritius fly directly into Mauritius from London Heathrow as follows: London Heathrow to Mauritius - Fri | Sat | Sun | Wed --- Mauritius to London Heathrow - Thur | Sat | Wed. The flight takes about 12 hours.
Dinarobin Beachcomber Golf Resort & Spa
Our host for the first two nights was the Dinarobin Beachcomber Golf Resort & Spa. It offers the perfect mix of facilities for the active, with a peaceful atmosphere for those looking to relax. If you are after a luxury Mauritius hotel, Dinarobin has a lot to offer. With the Le Morne mountains on one side and the beach on the other this hotel is set in a stunning location. From a choice of eight superb restaurants, a magnificent Spa, a whole host of free land and water sports and an onsite 18-hole golf course. There's also the Club at Dinarobin – the only private members club concept on the island.
The hospitality was second to none, after a leisurely hotel inspection we were greeted by Sega dances on the beach for cocktail making and our first of many beautiful Mauritian sunsets followed by dinner at Umami, the hotels Asian Fusion restaurant. I was accommodated in a Junior Suite, which was arranged in crescent shape around one of 6 swimming pools.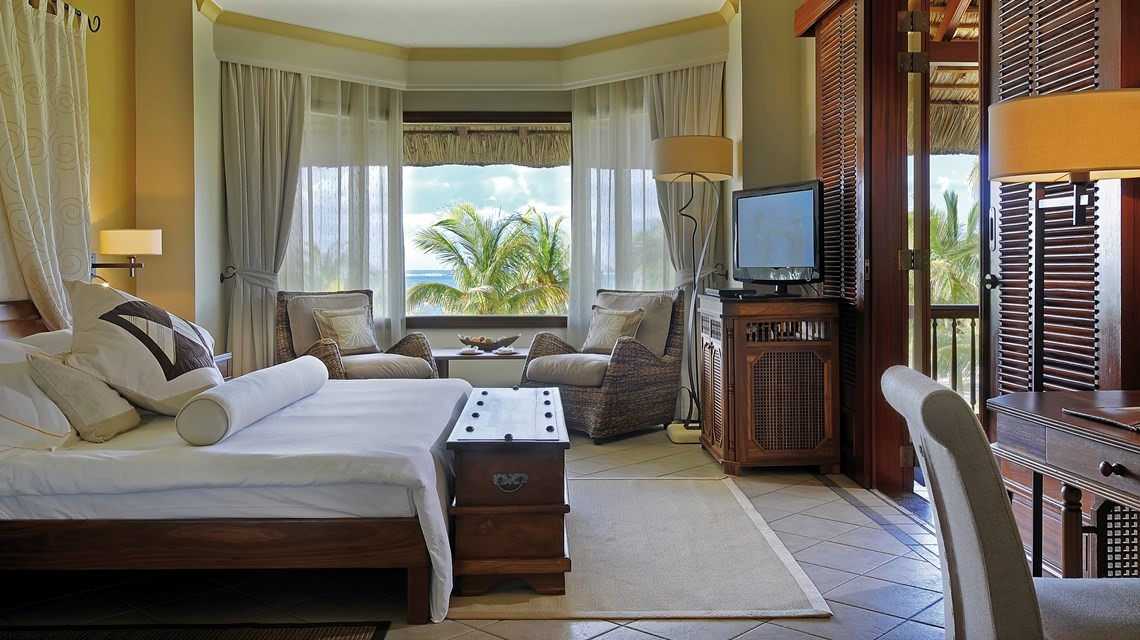 Paradis Beachcomber Golf Resort & Spa
On my second day on the Island I visited the Paradis Beachcomber Golf Resort & Spa which is widely regarded as one of the premier resorts on the island and has an enviable position at the tip of the stunning Le Morne peninsula surrounded by 5kms of beautiful beach.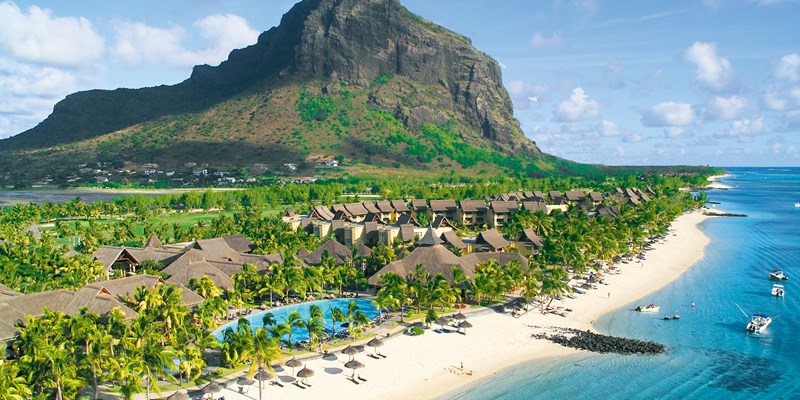 Breakfast was served at the Paradis mini club where we were shown the facilities and services available for children visiting the hotels.The complimentary kids club for children aged 3 – 12 years is run by qualified professionals who provide fun, but also educational, indoor and outdoor activities to keep your little ones entertained and happy. Every day there is a set activities programme which you can dip in and out of, if you also want to spend some family time together during the day. Children and infants under 3 can attend the Club but must be accompanied by an adult or baby sitter.
The villas at La Paradis are extra special because they are the only Villas on the whole island that are right on the beach you are only 30m away from the crystal blue Indian ocean.
It was at the Paradis that I tried my hand at Paddle Boarding for the first time, with mixed success. Unfortunately, I was not captured in all my glory standing on the board but this did happen, temporarily!! (Although I think I spent more time in the water than on the paddle board.) Many of the land and water sports are complimentary for all guests. After all the exertion we were treated to lunch at the Blue Marlin, Seafood restaurant which has stunning beachfront views.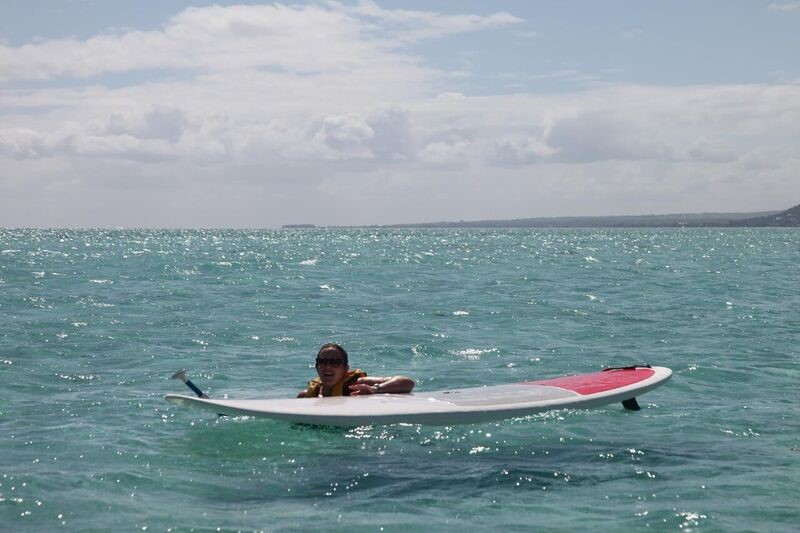 It was from here that on our second night we were lucky enough to be taken out on a sunset catamaran cruise. You can either do it with a group or hire the Catamaran out for just you and your loved one this would be a perfect start or end to any Honeymoon.
On Day three we were sent out to explore the Island. Whilst some went zip lining, sea karting and exploring the island by bus, I got to quad bike along the south coast of the Island. Quad biking costs around US$50pp and lasts about 2 hours. This exhilarating trip takes you around sugar cane plantations and stops at some wonderful picturesque locations. So, If you like to get a little muddy and have the wind in your hair and the sun on your face it is a great way to see the south of the island. The stop at the hidden waterfall will stay with me forever. Remember to take old clothes that you don't mind getting very muddy and wet.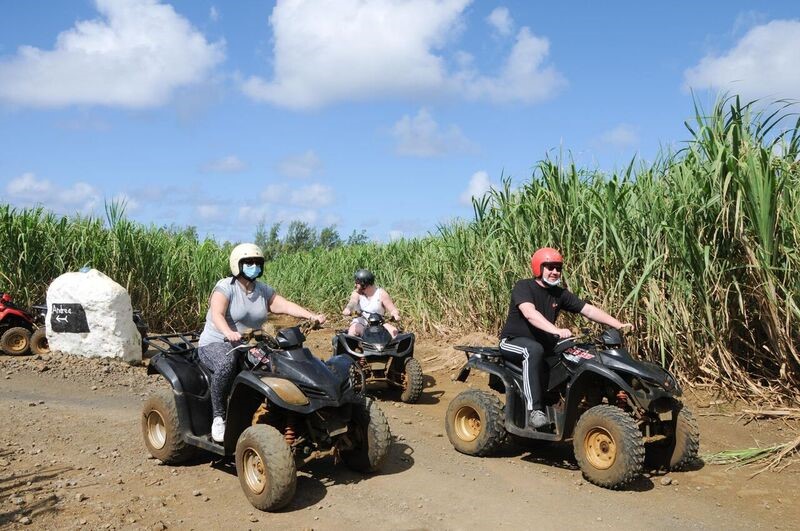 Clients wanting to book excursions should meet with the Mautourco representative in their hotel who will guide them through the excursion and activity options available. All the excursions offered by Mautourco are fully insured and protected so clients can enjoy Mauritius knowing they are in safe hands. There is a Mautourco representative in each hotel every day.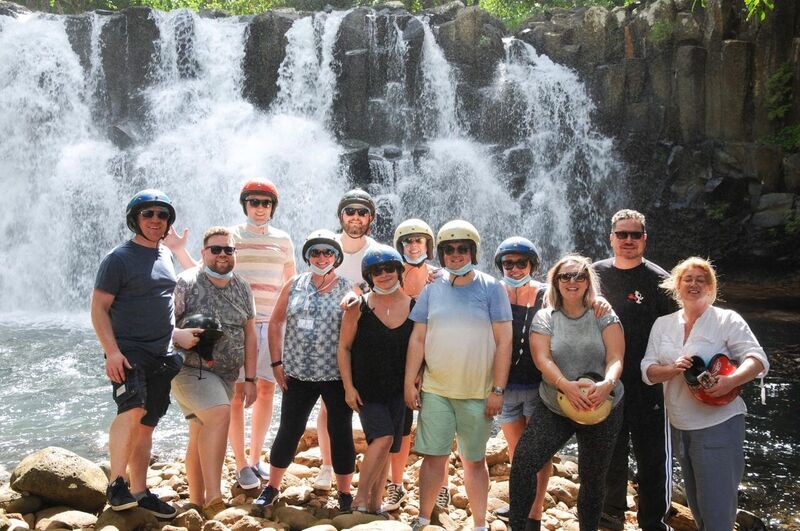 Trou Aux Biches Beachcomber Golf Resort & Spa
When we did make it to Trou Aux Biches it was time to relax and this hotel makes you feel right at home. The property enjoys a prime position on the west coast near to lively Grand Baie and Port Louis and is set along one of the best stretches of beaches in Mauritius. My home for the next two nights was the Junior suite pictured below.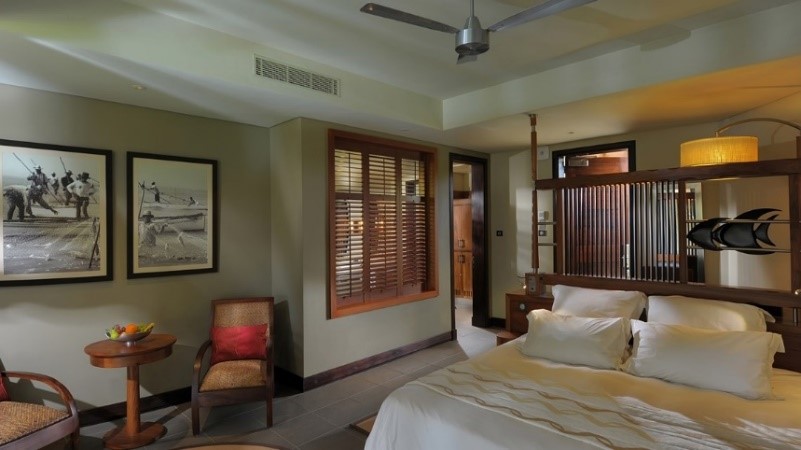 Trou Aux Biches is an all-suite property offering an impressive choice of accommodation from Beachfront Suites with their own plunge pools, tropical suites with an outdoor shower to two and three-bedroom family villas. If you are looking for a luxury Mauritius villa for the family the detached 2 and 3-bedroom villas at Trou aux Biches are perfect for families or friends wishing to share. Upgrade to a Tropical Junior Suite where the ground floor suites feature an outside shower for added luxury.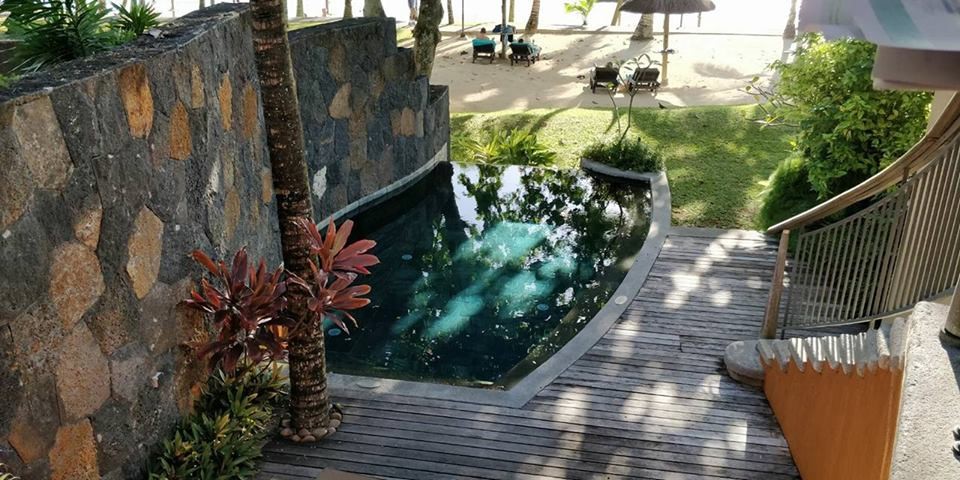 This evening's dining experience was a BBQ on the beach catered for by the staff of the Le Deck restaurant. I even tried my hand at a little Sega dancing.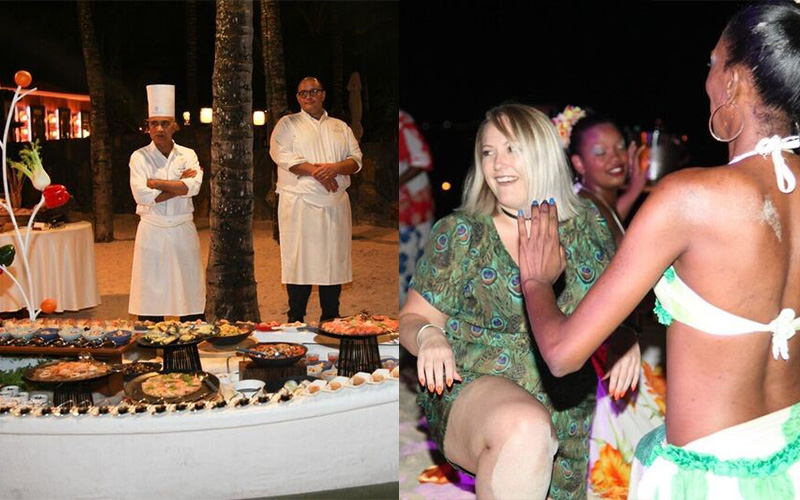 Mauricia Beachcomber Resort and Spa
Today started with breakfast at Le Nautic and a site inspection of the Mauricia. Set in a lively location, The Mauricia is a short walk along the beach to the centre of the bustling village of Grand Baie. This gives guests the very best of both worlds, as you can make the most of the excellent facilities offered by Mauricia itself or get out and enjoy the shops, nightlife and restaurants found in Grand Baie. This is currently Beachcomber's most cost effective resort offering all-inclusive and access to all shared facilities at the Victoria and Canonnier.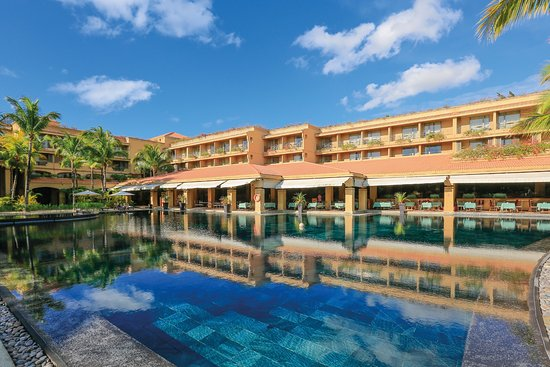 We then set off in our teams on the 'Don't be a dodo' scavenger hunt. Where we had to get from one hotel to the next without paying for transport and collect a selection of elusive items on route. Unfortunately for my team we never quite made it to Mont Choisy Golf Course but I am informed that the Golf there is very good and makes both the Mauricia and the Canonnier great hotel choices for golf fanatics and offers a better value option to the Dinarobin and Paradis.
Canonnier Beachcomber
Those of us that that made it to the Canonnier got to enjoy lunch at the La Serenata, Italian restaurant.
The Canonnier is a friendly and welcoming resort set on a historic peninsula (home to an ancient lighthouse, the ruins of an old fortress and several old cannons). The site looks over the Indian Ocean towards a number of islets, all of the rooms have fresh contemporary Mauritian interior, having recently been renovated and the gardens and beach make the most of its peninsula setting. Clients are also just a short drive away from the entertainment and shops found in Grand Baie.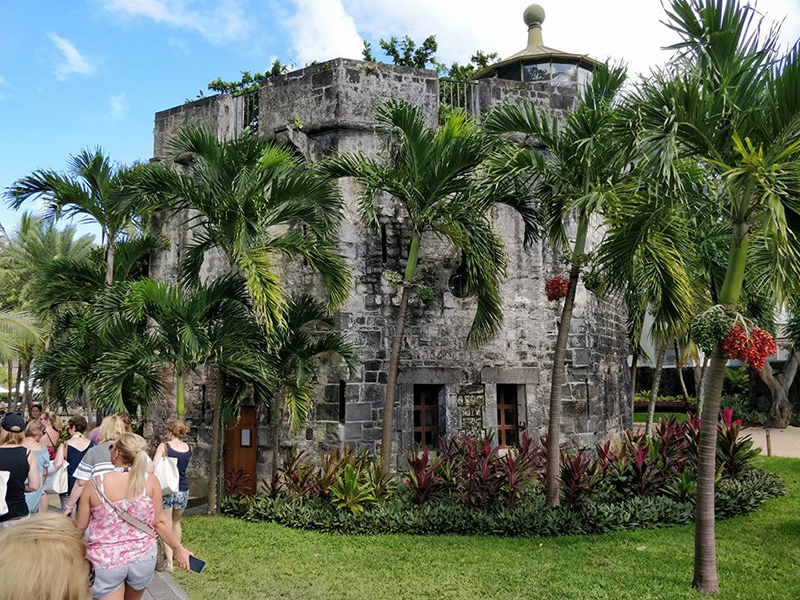 Canonnier has a fantastic Wellness Centre, which is built in and around the branches of a huge, ancient Banyan Tree. It offers multiple relaxing massage treatments and does offer a double massage cabin. The hotel also offers a range of land sports including archery.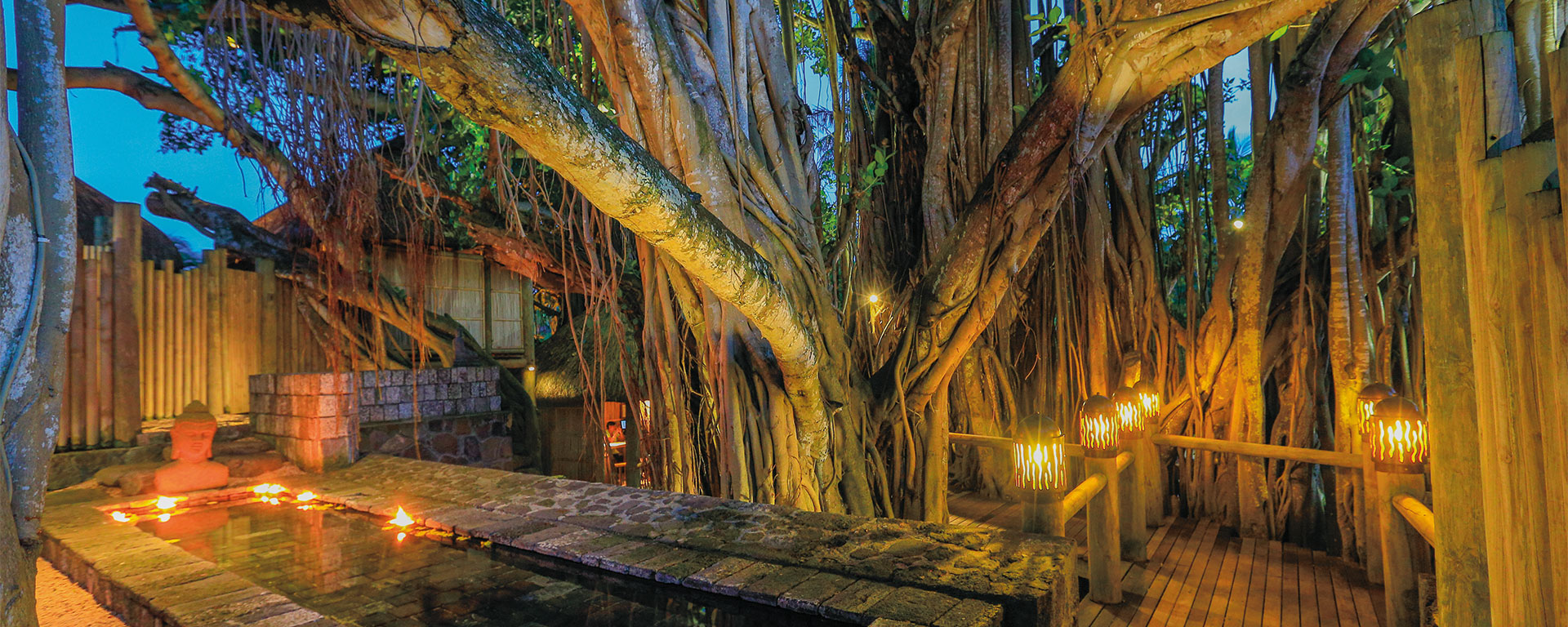 Victoria Beachcomber
All of the rooms are sea facing except the superb Family Apartments which are located in a 'family village' area within the gardens. Victoria itself is ideal for couples or families as it brings together lovely surroundings, spacious rooms (some of the largest on the island) and excellent facilities in one entrancing resort.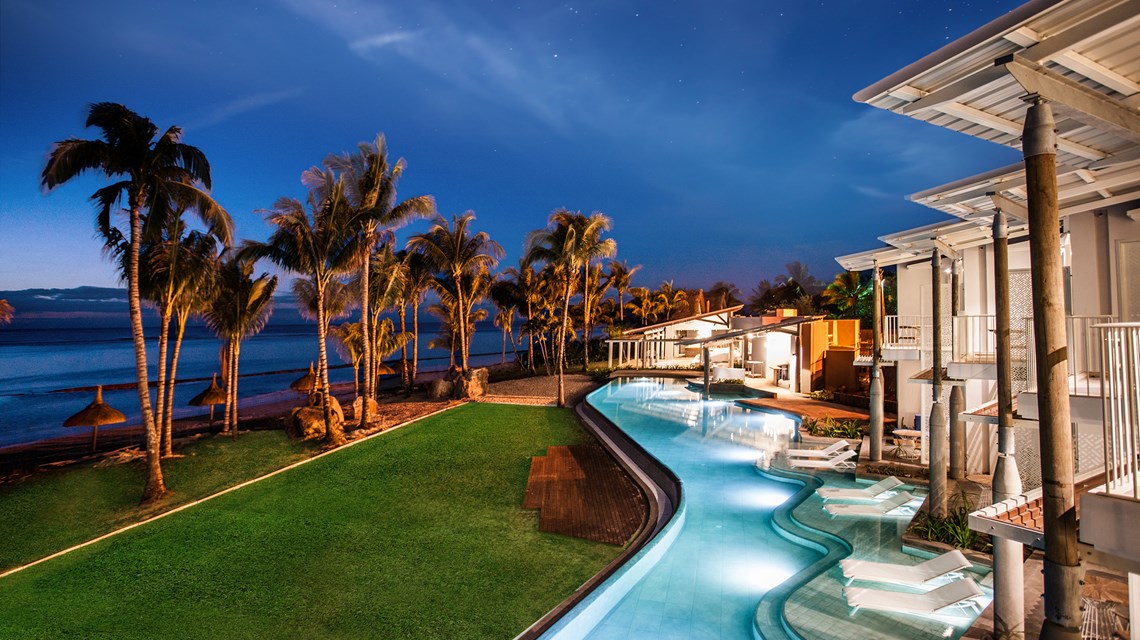 Victoria Beachcomber has a new adult only concept called Victoria for 2. This new section of the hotel will be exclusive to adults only and will consist of 23 Ocean View Rooms and 17 Swim-Up Rooms. The complex will have a new restaurant and swim-up bar and Victoria for 2 guests can also enjoy all the facilities of Victoria Beachcomber Resort & Spa. This evenings culinary delights were served to us at La Casa, Victoria's Italian Restaurant. Not only was the food exceptional but the presentation was second to none.
Shandrani Beachcomber
Shandrani was our final stop. Set in an unspoilt southern location surrounded by 70 acres of gardens and the Blue Bay Marine Park the Shandrani Hotel offers amazing choice all wrapped up in one holiday price. This is Beachcomber's number one luxury all-inclusive resort and champagne by the glass is included in the all-inclusive from 6.00pm.
Shandrani offers guests three beaches to enjoy, a fantastic spa, loads of free land and water sports, there's some great snorkelling just of the beach in the surrounding Blue Bay Marine Park, a pitch & Putt Golf course and a choice of spacious accommodation.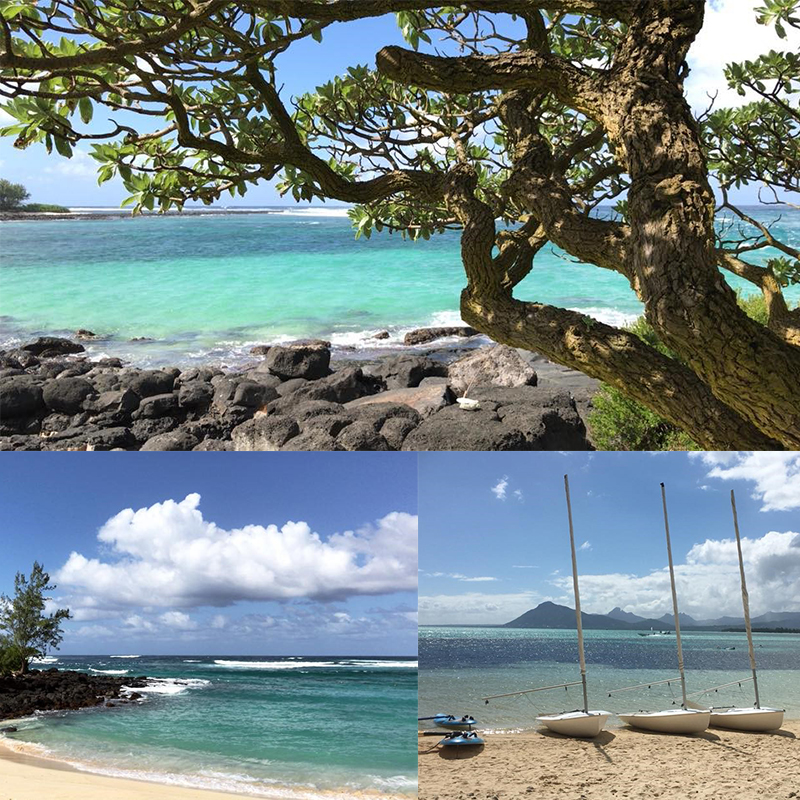 During my stay I was accommodated in a Deluxe room, similar to that photographed below.

Our first dinner here at the Shandrani was at the Ponte Vecchio, Shandrani' s Italian A La Carte restaurant. The Starters were served to us in a buffet style direct from the kitchen which was a great way to see the restaurant.
And before I knew it my last day on Paradise Island had arrived, whilst most of today was at leisure for us to enjoy the facilities at the Shandrani there was a little briefing on Beachcomber weddings. I have included some basic information below but if you have any specific questions please feel free to come and have a chat with me or speak to Ria in reservations. The package really is so straight forward and hassle free.
Beachcomber Weddings
UK Contact – Ria Smith – Tel: 01483 445610
Email: This email address is being protected from spambots. You need JavaScript enabled to view it.
Beachcomber guarantee only one wedding a day at each hotel and guests have their own dedicated wedding planner in Mauritius and a knowledgeable and friendly team in the UK. Look no further for wedding packages abroad, with stunning views, high temperatures and luxurious facilities their Mauritius wedding will be the perfect day.
They offer 2 superb packages for weddings in Mauritius - The Beachcomber Package and The Luxury Beachcomber Package.
The Beachcomber Package:
Includes cost of all legal procedures, fees and documentation, Civil Status charges in Port Louis including the cost of transfers from your resort to the Civil Status office, Registrar's fees, Dedicated wedding planner in Mauritius and a wedding team in the UK, Choice of wedding locations at chosen resort, Wedding cake for 10 people, Bridal bouquet and groom's button hole, Celebration breakfast in bed, Separate room for the groom to change in (subject to availability)
COSTS - 01 November 2016 to 31 October 2018
Mauricia, Canonnier, and Victoria | £605
Paradis, Dinarobin, Trou aux Biches and Shandrani | £665
Royal Palm | £695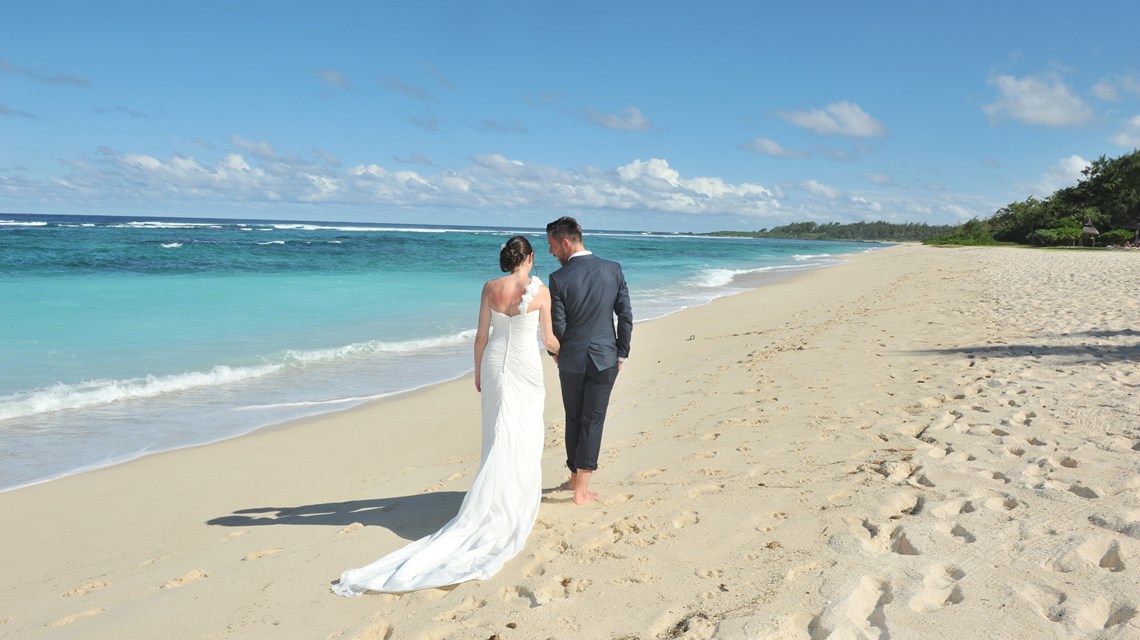 Au Revoir Maurice
On the last evening I celebrated with my travel buddies at formal Gala dinner which was hosted on the beach and the evening was spent celebrating 50 years of Independence for Mauritius and looking back on our amazing time in Paradise with the Beachcomber staff.
My words really are no justice for the beauty of the Island and the hospitality of the beachcomber staff but I hope I have given you an insight into why Mauritius and why Beachcomber. I am more than happy to chat to you, one on one if you have any specific questions or just want to hear more stories from my time in Mauritius. With year-round balmy weather, an abundance of natural beauty and amazing hospitality, a Beachcomber hotel in Mauritius is a definite must for the bucket list.
So until next time, Au revoir Maurice!!!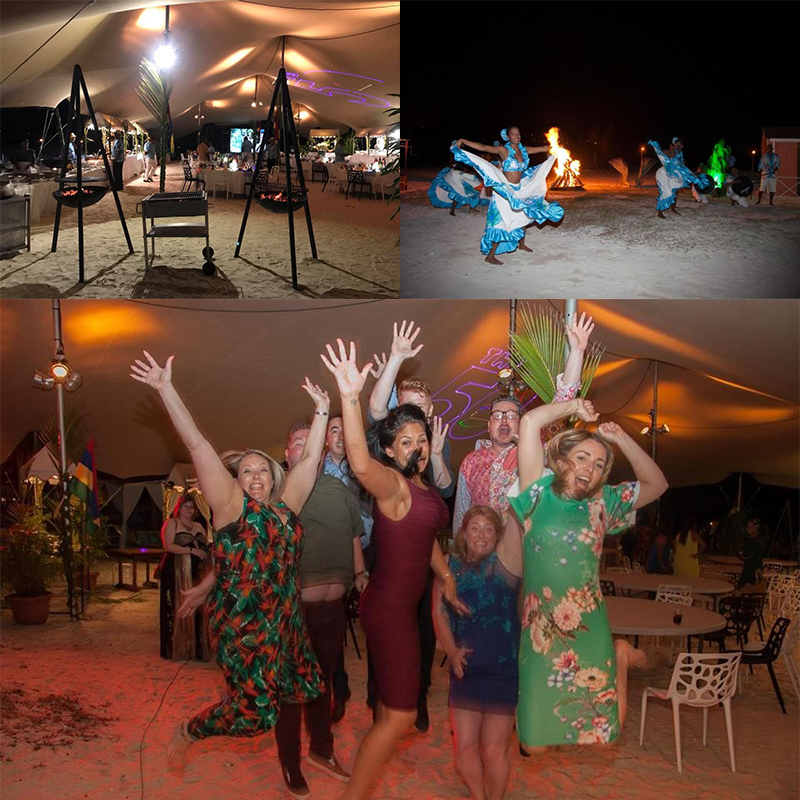 Speak to Hannah & the team about your Mauritius holiday
Whenever and wherever you want to go, our knowledgeable and experienced team can help create the perfect trip.
For inspiration, advice and to discuss your travel plans further, speak to our holiday experts at Howard Travel.
T: 01225 777 227 | E: This email address is being protected from spambots. You need JavaScript enabled to view it.