Kimara's Italian Adventure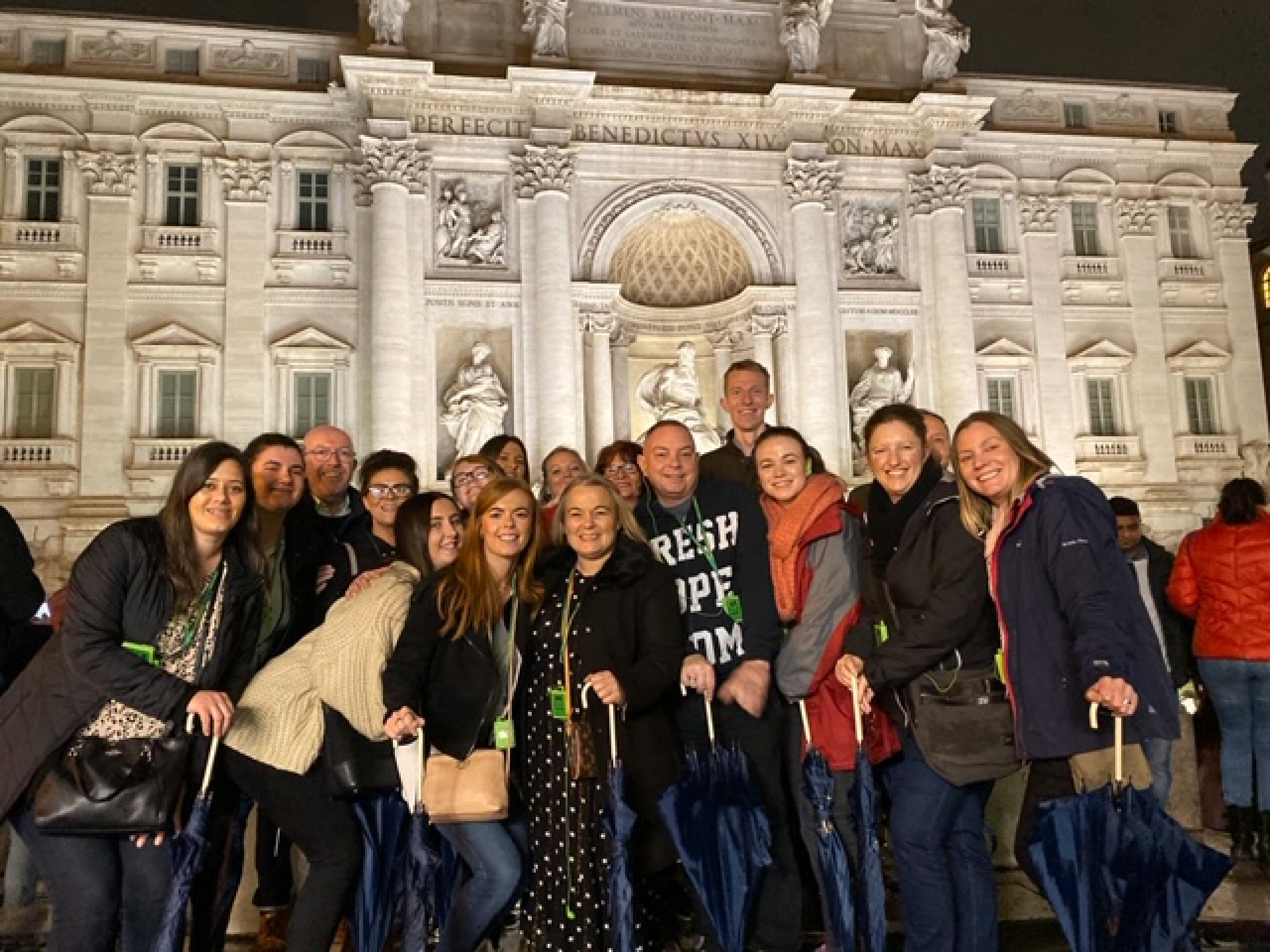 Howard travel expert Kimara has returned from her trip exploring some of the finest sights Italy has to offer. During her 4-night stay, she came across some of the world's most famous sights such as Pompeii, Mount Vesuvius and the Colosseum. From a tour of the gorgeous Amalfi Coast, to trying a metre-long pizza, have a read about Kimara's action packed time in Italy through her daily travel diary.
Day 1:
After a short 2.5-hour flight from Gatwick, we arrived in Naples at around 6pm where we were met by a local guide called Becky. We had a chat with Becky about the surrounding area and she explained to us some of the history of Naples and what the fascinating city had to offer us. On our route to Sorrento, she took us to one of the most famous pizza restaurants in Italy called Pizza A Metro. Located in a small town called Vico Equense, the restaurant is renowned for its metre-long pizzas, that are hugely popular with locals and are fantastic value for money!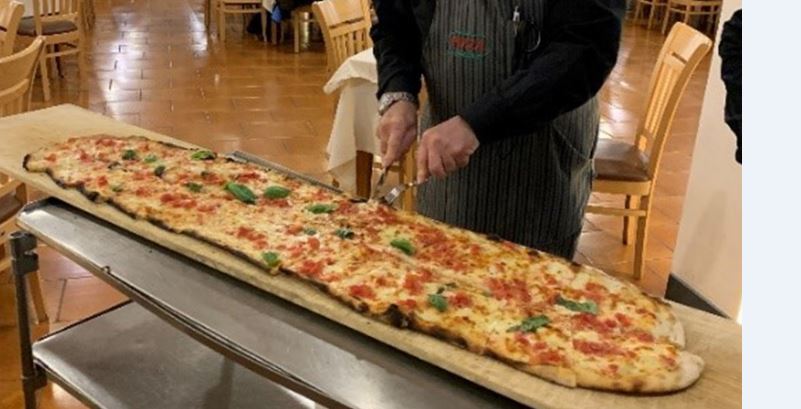 After our pizza stop, we arrived at Sorrento, where we checked into our 4* hotel, Hilton Sorrento Palace. The hotel was fantastic, with sea facing rooms offering a stunning backdrop of the famous Mount Vesuvius and an incredibly modern style interior. We were upgraded to an executive room which included the executive lounge. We were served snacks and beverages on a complimentary basis which we had in the executive lounge and were served alongside wines, selected spirits and soft drinks. We also had access to the infinity pool, which had amazing views that looked out over the sea and Vesuvius.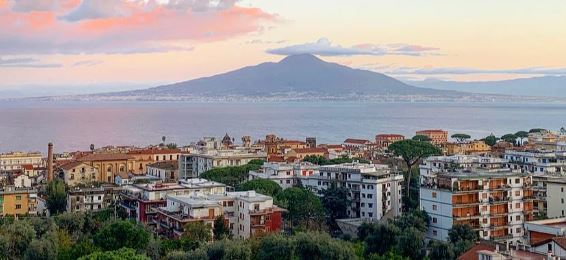 Day 2:
Our second day began with a walk into the heart of Sorrento where we visited the Cloister of San Francesco. It is placed in a beautiful location in Sorrento, near the public gardens of the town, overlooking the Gulf of Naples. The Cloister has three main sections that combine to make it a wonderful location, the Monastery, church and the Cloister. This is a very popular location for weddings due to the area around the church being incredibly picturesque. We then went to Sorrento Square and ate at the Piazza Tasso for lunch, which had a lovely atmosphere and amazing Italian food. We treated ourselves to champagne and cake before heading off to Pompeii.
The drive from Sorrento to Pompeii takes around an hour and we arrived via coach transfer at around 3pm. We arrived to a welcome of a few local stalls selling merchandise as we approached the gates, there were minimal queues as it was slightly off season, which saved us some time! The weather was lovely and cool for a walk around which made the visit much more comfortable and enjoyable. During our tour of Pompeii our guide, Pasquale, took us to a small area that was discovered in the late 16th century, with a vast amount still yet to be excavated. We also learned about how Pompeii was affected after the eruption of Vesuvius as we wondered around its ancient streets, visiting their public baths and ancient villas, which gave us an excellent insight into life before and after the eruption.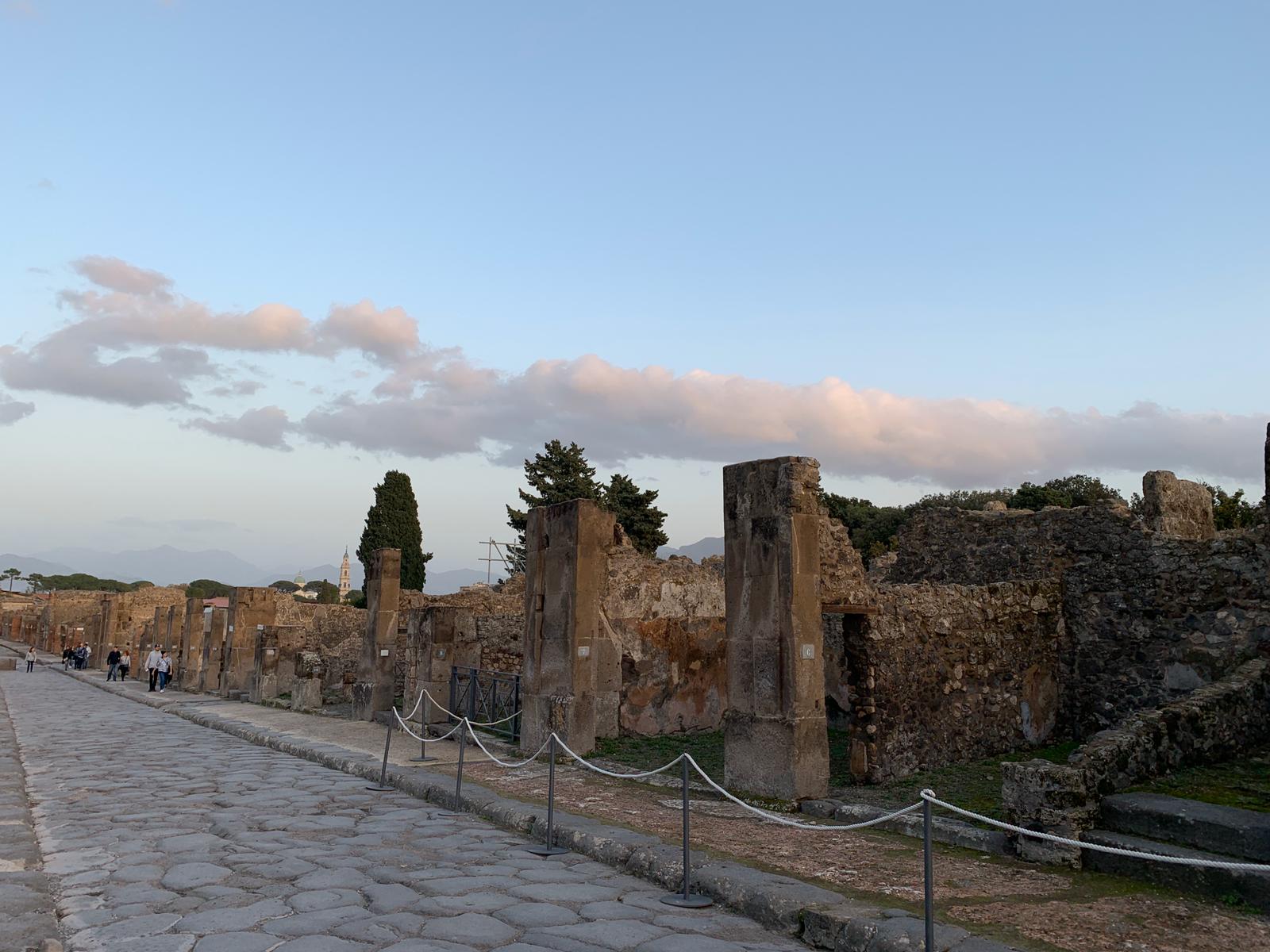 Day 3:
Our third day consisted of taking a tour across Amalfi, visiting Positano, Amalfi and Ravello along the way. In the morning we departed Sorrento by coach at around 9:00 am and headed towards Positano, Arriving at around 9:45 am. With the roads being very narrow and cliff edged, I would highly recommend having a driver or a coach tour unless you are an extremely confident driver! Although the drive can be quite nerve wracking, it is completely worth it in the end.
We then took a stroll into Positano itself, a lovely town lined with small boutique shops, restaurants and dramatic coastline views, Positano is a really beautiful and vibrant place. It's very easy to walk around, even with steep steps and small cobbled streets, it all adds to the beauty of it. You can reach Capri easily by boat from Positano with regular buses and ferries that make travelling along the Amalfi Coast very stress free and simple. We later took a brief stop in Ravello, which is one of the most stunning locations in Italy and listed as a UNESCO world heritage site, situated between the towns of Minori and Amalfi itself.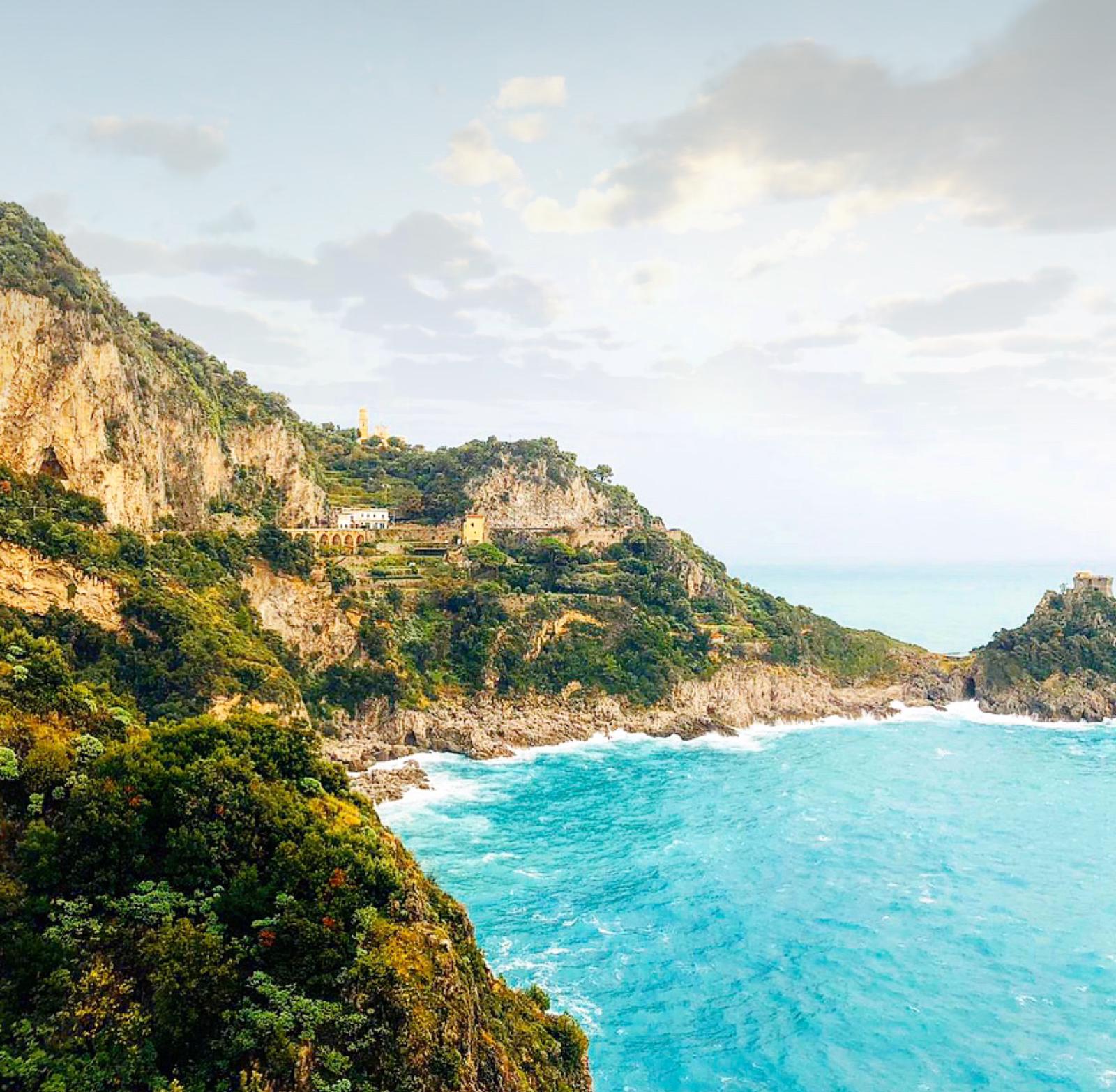 After admiring Ravello, we drove through to Salerno which is the one of the closest train stations to the Amalfi coast. We later arrived back in Sorrento and we had dinner just outside the main square at the Ristorante Tasso. The restaurant offered amazing Italian food over 3 courses, all of which were authentic Italian dishes and the portions were very generous. The restaurant itself was quite intriguing with its array of ornament donkeys, Italian décor with masks from different neighbouring districts of Italy and expensive colourful chandeliers. Overall the whole restaurant atmosphere was really welcoming and friendly.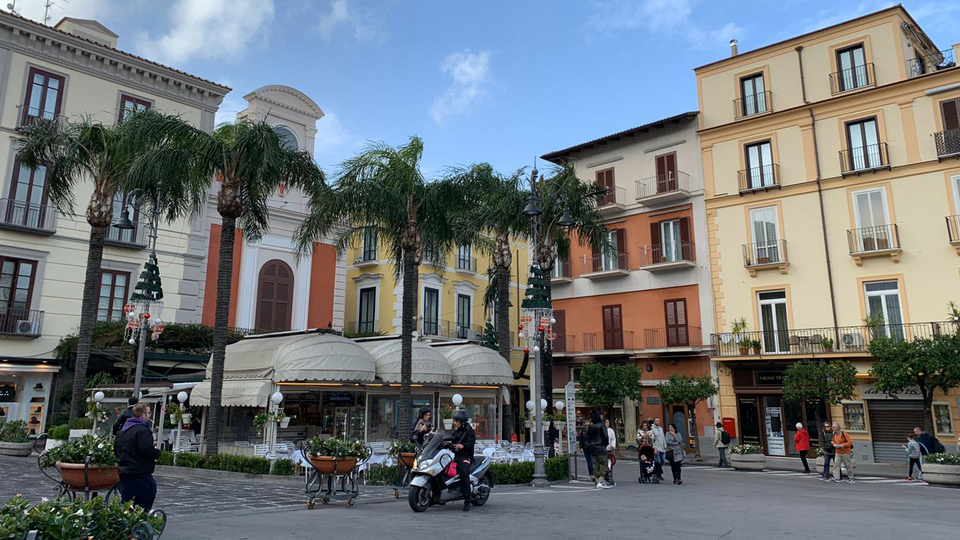 Day 4:
Our fourth day began by taking a train from Naples to Rome, taking just over an hour to arrive in Rome. We opted for the business class train which cost us around 30 euros for one way, including a soft drink and a light snack during the journey. The train had extremely comfortable seats and the carriage was very quiet and small. The journey offered some incredible views of Italy along the way, so I would definitely recommend sitting on the right side of the train if you want to get the best views possible.
Once we arrived in Rome, we were met at the main train station in Rome (Termini Station) and were transported 15 minutes by coach to our 5* hotel named Parco Del Principi in the Villa Borghese Gardens. Our hotel was completely mesmerising. Located at the top of the Borghese Gardens, the hotel contains over 170 rooms, all with a balcony or terrace and a complimentary spa. Its interior is covered in Beautiful Italian décor, with interconnecting rooms and an outdoor swimming pool.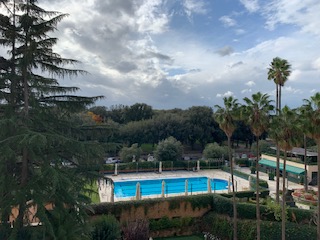 Once checked in, we had a quick, light lunch before setting off for a walking tour of Rome. The walking tour offered headsets with ear pieces, so you didn't have to worry about being right next to the guide to get all the information about the city. Along the way we visited the Pantheon, Spanish steps, Piazza Novano, Trevi Fountain and St Marks Basilica. Rome is an extremely accessible location by foot or if you don't fancy the walk you can purchase a travel card for 3 Euros, which allows use of buses and the metro. After our walking tour we went straight to dinner at the Osteria Sant'Anna where we were treated to a 6-course meal of local delicacies including artichoke ice cream, truffle lasagne & ravioli pasta.
Day 5:
On our final day we were given free time to explore the city of Rome. We took a taxi from the Parco Dei Principi to the Colosseum which cost us around 10 euros for one way. On our way back from the Colosseum to the hotel we passed the Roman Forum, Altar of the Fatherland and Panthoen which has lovely restaurants opposite which were a great stop for lunch and a glass of wine. We also visited the Trevi Fountain (where there is a make your own magnum shop at Trevi fountain if you love an ice cream), Piazza Novano, Spanish steps, Piazza del Popolo then through the Borghese gardens. I would highly recommend doing this route as you can truly see all the wonderful sights Rome has to offer.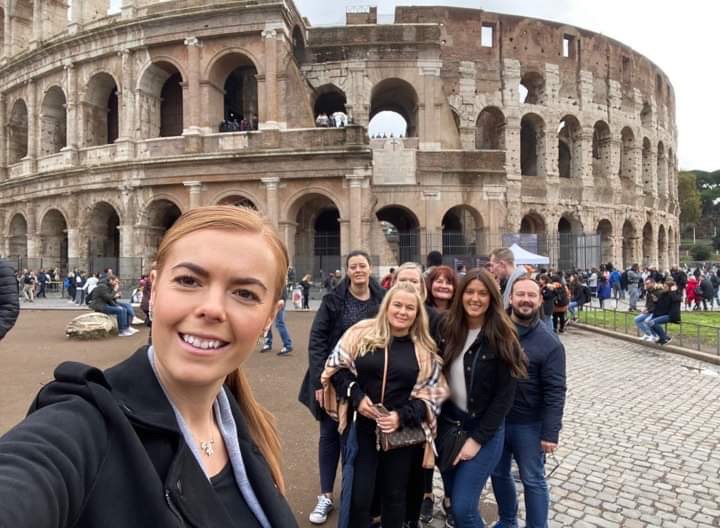 Italy is a beautiful, authentic and cultural country, with a fascinating history. The locals were very welcoming who were really helpful throughout the whole trip and just can't do enough for you. If you are visiting Italy, I would recommend exploring as much of the country as possible, take local transport and do multi-centre holidays if you have the time. It's so easy to travel around Italy and each location offers something different to experience.
Speak to Kimara and the team about your Italian holiday today.
Whenever and wherever you want to go, our knowledgeable and experienced team can help create the perfect trip.
For inspiration, advice and to discuss your travel plans further, speak to our holiday experts at Howard Travel.
T: 01225 777 227 | E: This email address is being protected from spambots. You need JavaScript enabled to view it.